Whistle Stop Tours: Where African American neighborhoods take center stage
Whistle Stop Tours strives to be a contributing voice in shaping the public memory of North Carolina's slave past and African American achievement. In Durham's quickly changing landscape marked by redevelopment and displacement, the public history of Durham's Black neighborhoods is incomplete. Whistle Stop Tours celebrates the band of Black men and women coming out of slavery — the forefathers and foremothers of Durham's Black Wall Street, Hayti, and West End neighborhoods — so that they may be elevated and their successes emulated. Performers and activists, scholars and public historians, natives and long-time residents have all come together to preserve African American neighborhoods by sharing their stories under the umbrella of Whistle Stop Tours. This performance-based walking tour company was created by Aya Shabu in 2011 and has formed partnerships with The Hayti Heritage Center and The Pauli Murray Center for History and Social Justice.   
Aya Shabu is a professional dancer, choreographer, and teaching artist living in Durham, North Carolina. Aya was awarded an artist residency at the Power Plant Gallery at American Tobacco Campus in 2017. A 2012-2013 Emerging Artist Grant recipient, Aya has choreographed for some of the Triangle's best theatrical productions, most notably I Love My Hair , The Brothers Size , and The Parchman Hour . Aya was discovered by Baba Chuck Davis in NYC and has been a touring dancer with the African American Dance Ensemble. Aya and her musician husband are artists and directors of The Magic of African Rhythm— a 30-year old family drum and dance ensemble. Passionate about preserving African diaspora cultural traditions, Aya is the founder of Whistle Stop Tours — walking tours of African American neighborhoods. Aya is currently writing her first evening length dance-theater performance piece — LandED: My Hayti|Haiti|History .
Whistle Stop Tours
HAYTI TO HAITI: A GLOBAL BLACK CONSCIOUSNESS – is a 75-minute walking tour of the Hayti Neighborhood of Durham. Aya Shabu and Whistle Stop Tours' docents partner with the Hayti Heritage Center to explore the influence of Haiti's revolutionary spirit on the independent African American neighborhood of Hayti. Stops include many of the neighborhood's founding institutions including: St. Joseph's AME Church, The Carolina Times, Lincoln Hospital and more! Stories include the women of Hayti, the power of Black churches and Urban Renewal.
PUBLIC TOURS: variable dates during the season.  Discounts for Early Birds, Seniors, and Kids.
Next Public Tour,
Saturday June 3rd @ 10am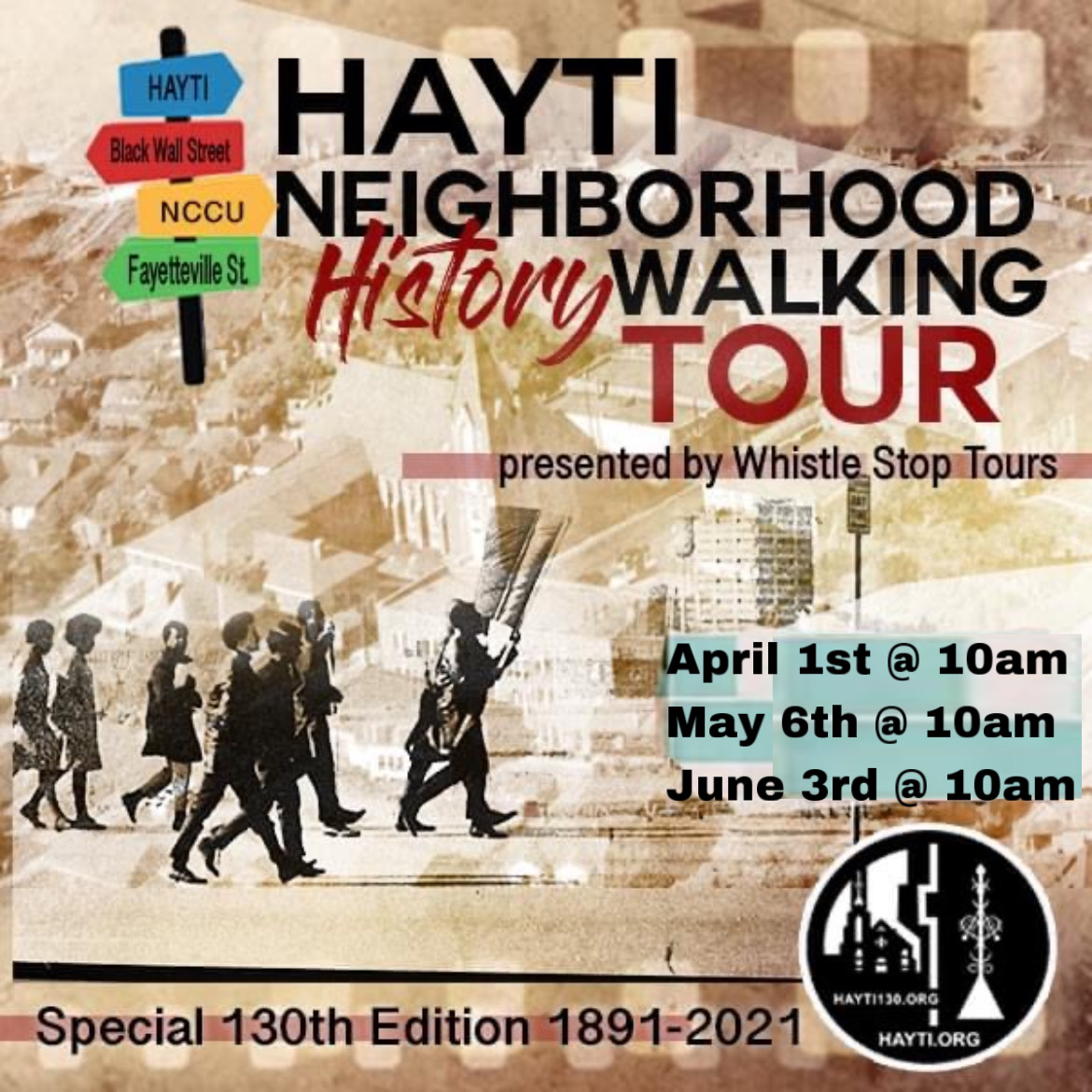 BUS TOURS: available upon request. These 75-minute tours cover ALL three neighborhoods with a maximum of 3 stops. Cost of bus not included.
PAYMENT: for public tours- pay in advance or at the door. Cash or card preferred.
Please email Aya for more information at aya@whistle-stoptours.com